Spare Room - conceptual redesign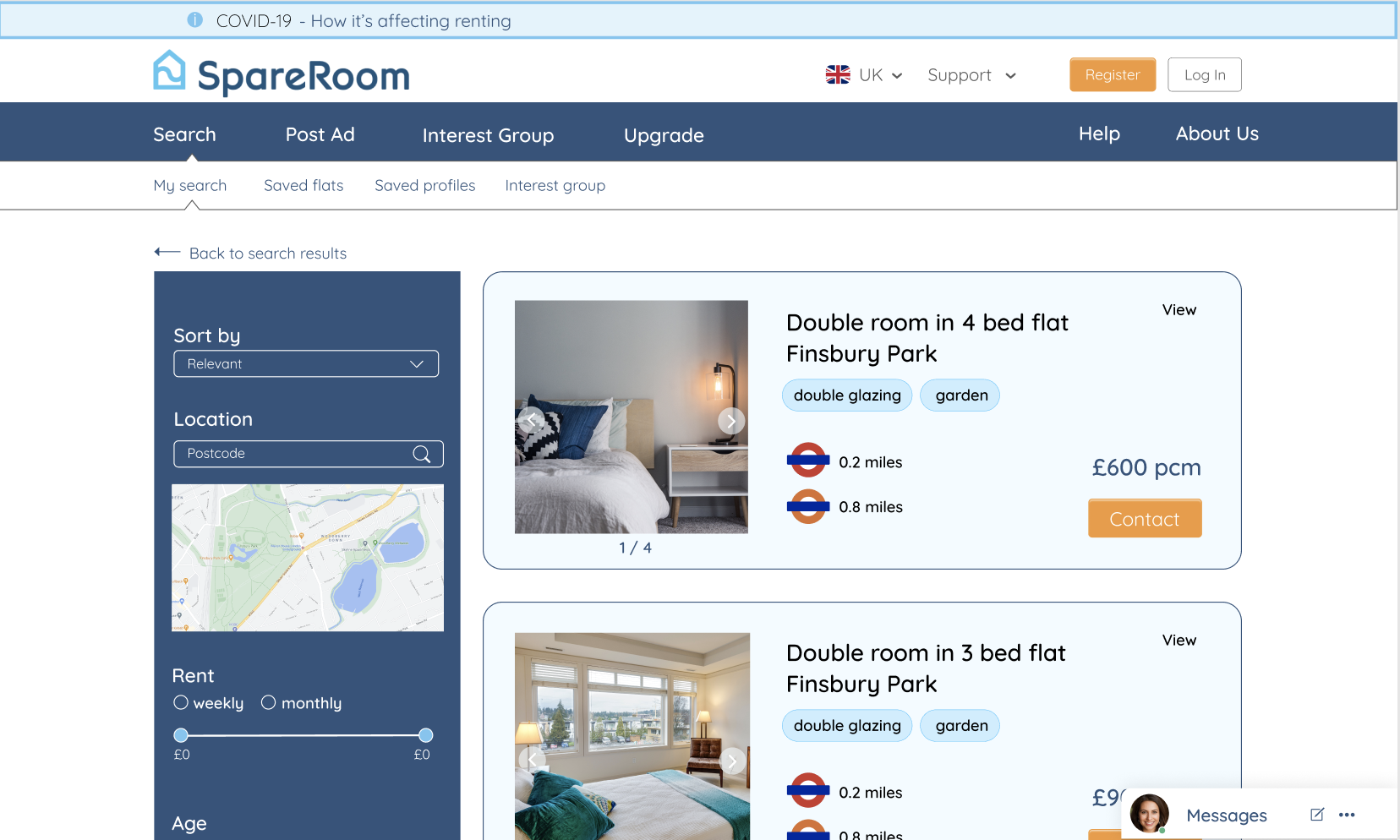 Project overview:
I worked in a group of 4 to redesign Spare Room during a 2 week design sprint.
Spare Room is the UK's busiest house and flatmate search website. Someone finds a flatmate on Spare Room every 3 minutes.
The Brief:
'In light of the challenges encountered in coordinating flat-shares during COVID lockdown, Spare Room identified an opportunity to adapt their service to the changing times. With people spending more time at home, and more and more viewings being conducted virtually, Spare Room wanted to make it easier for people to find and choose flatmates aligned with their personality and interests.'
Key Info
Survey participants - 63
User Interviews - 13
Design Iterations - 5
Usability Tests - 16
Skills used - interviewing, usability testing, contextual inquiry, competitive analysis, affinity mapping, experience mapping, persona creation, user journeys, paper prototypes, wireframing, UI design, digital prototyping, iterative design
We hit our brief by successfully implementing new methods of communication and a new search function into the Spare Room website. By being able to see more, clear information about profiles on the site, as well as being able to directly communicate with them, users stated that our designs were very much engaging.
Key learnings - the key takeaway from this project was inspiration can come from anywhere. Competitive analysis does provide a lot of useful insights, but analysing company websites that are seemingly unrelated can also be extremely helpful. Good design is good design - as long as you can justify why, feel free to take inspiration from anywhere!
Discover:
As a team, we discussed the first steps that we needed to take to understand people's pain points with not only Spare Room, but also finding a flatmate in general. We concluded on interviews, as these would ideally give detailed insights as opposed to usability tests which only highlighted Spare Room's deficiencies. We interviewed 12 people.
Firstly, interviewees spoke of their difficulties in finding enough information about potential flatmates, with one person saying
"it is very hard to know whether you have similar interests with a person by just reading their profile."
On top of this, unlike anything mentioned in the brief, we were also informed of the importance of security. One person lamented:
"I had a terrible experience as I was scammed once when I tried to use Spare Room. The user's account was anonymous and not verified."
We decided that not only did we need to make Spare Room more engaging, but also more trustworthy.
Design:
Spare Room serves a different purpose for different users. Whilst some go on the site to find a room for themselves, others are posting a room for someone else to rent. So we created 2 problem statements:
Problem Statement for someone looking to find a room: Fatima needs a fun and engaging way to find potential flat mates that have similar interests to her because it is important to her to live with someone she can relate to.
Problem Statement for someone looking to find a tenant for a room: Fernando needs an easy way to verify the credibility of his potential flat mate because it is essential to be able to rent and share a flat with someone he can trust.
We started to sketch some ideas: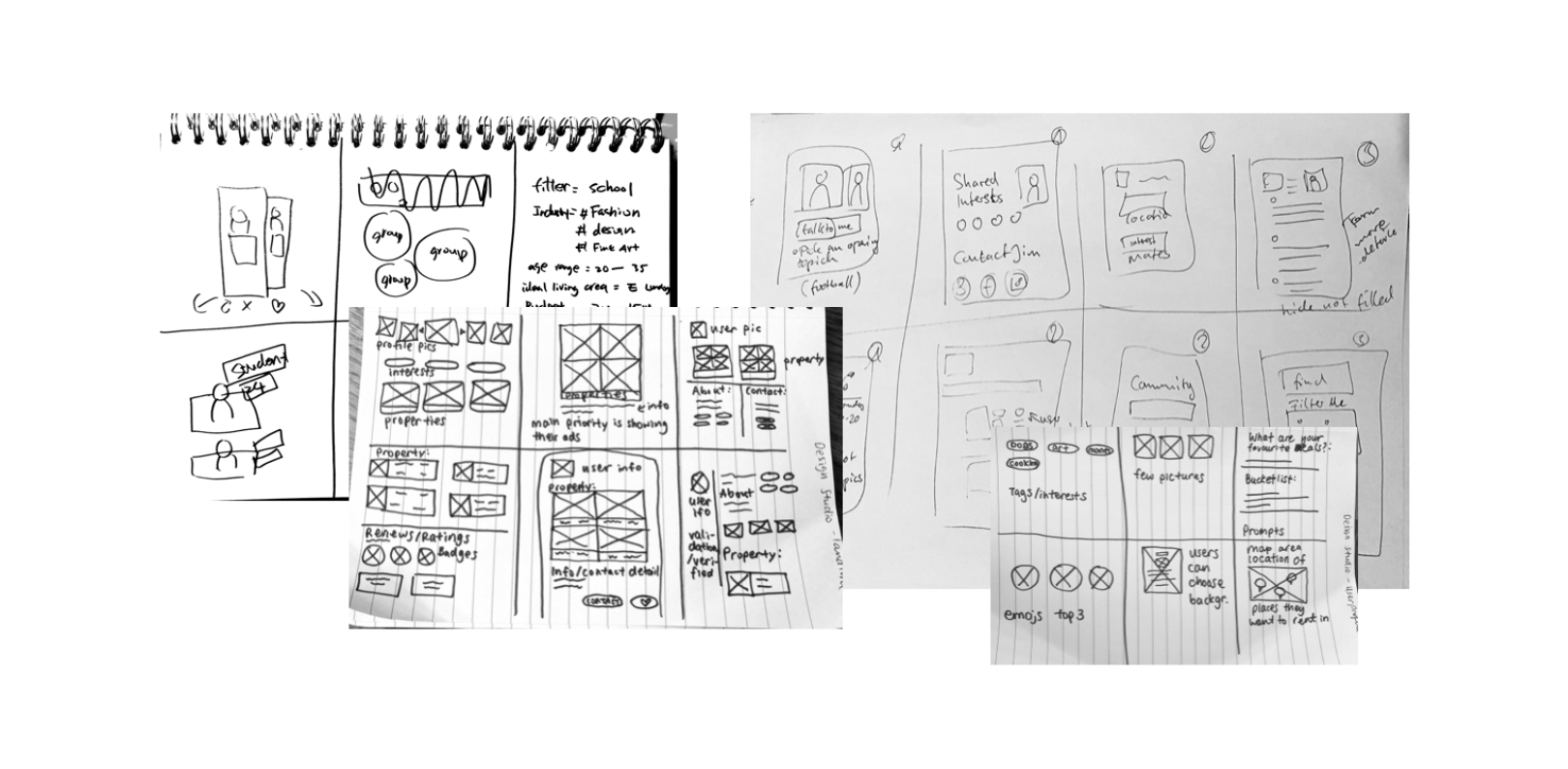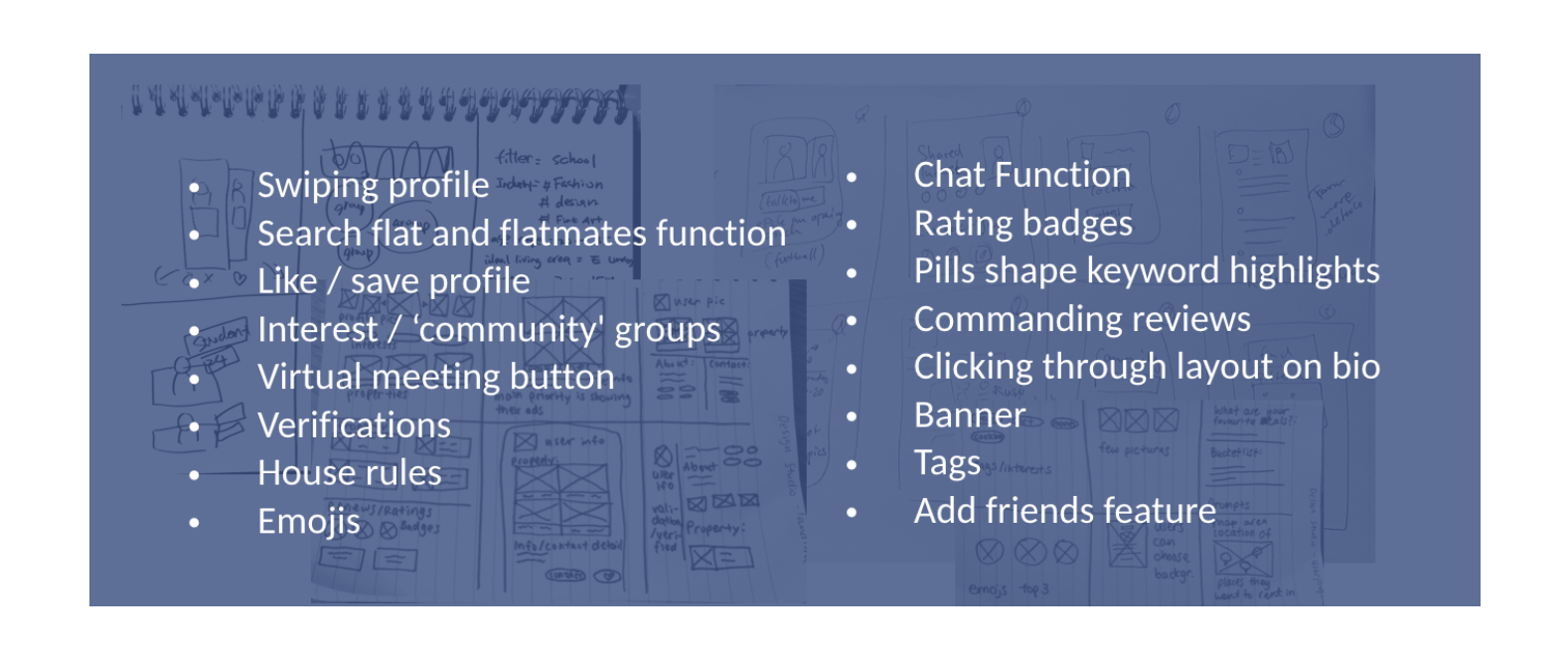 On the left is a list of potential features that we came up with. The issue with our design studio was that we simply had too many ideas to implement in a short period of time. We had to refine them.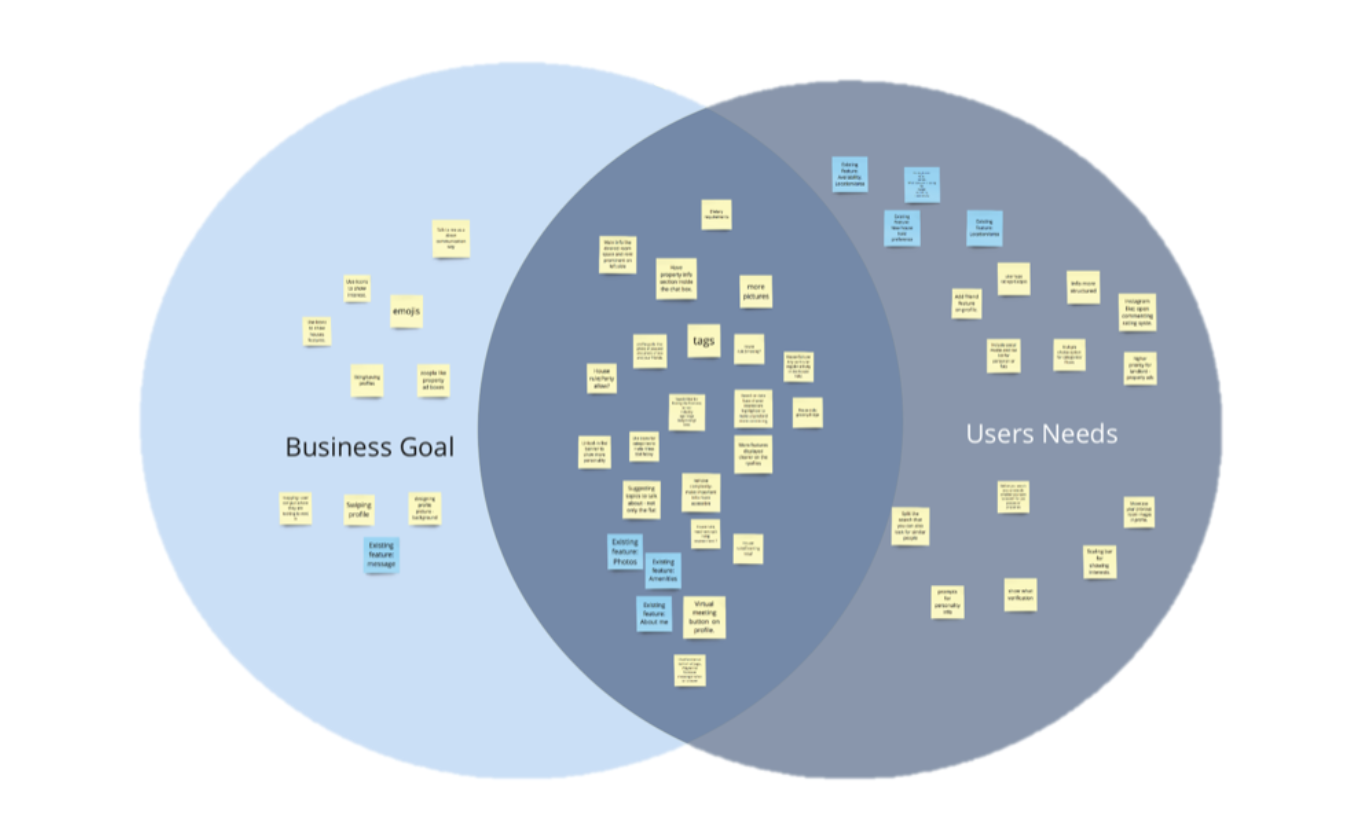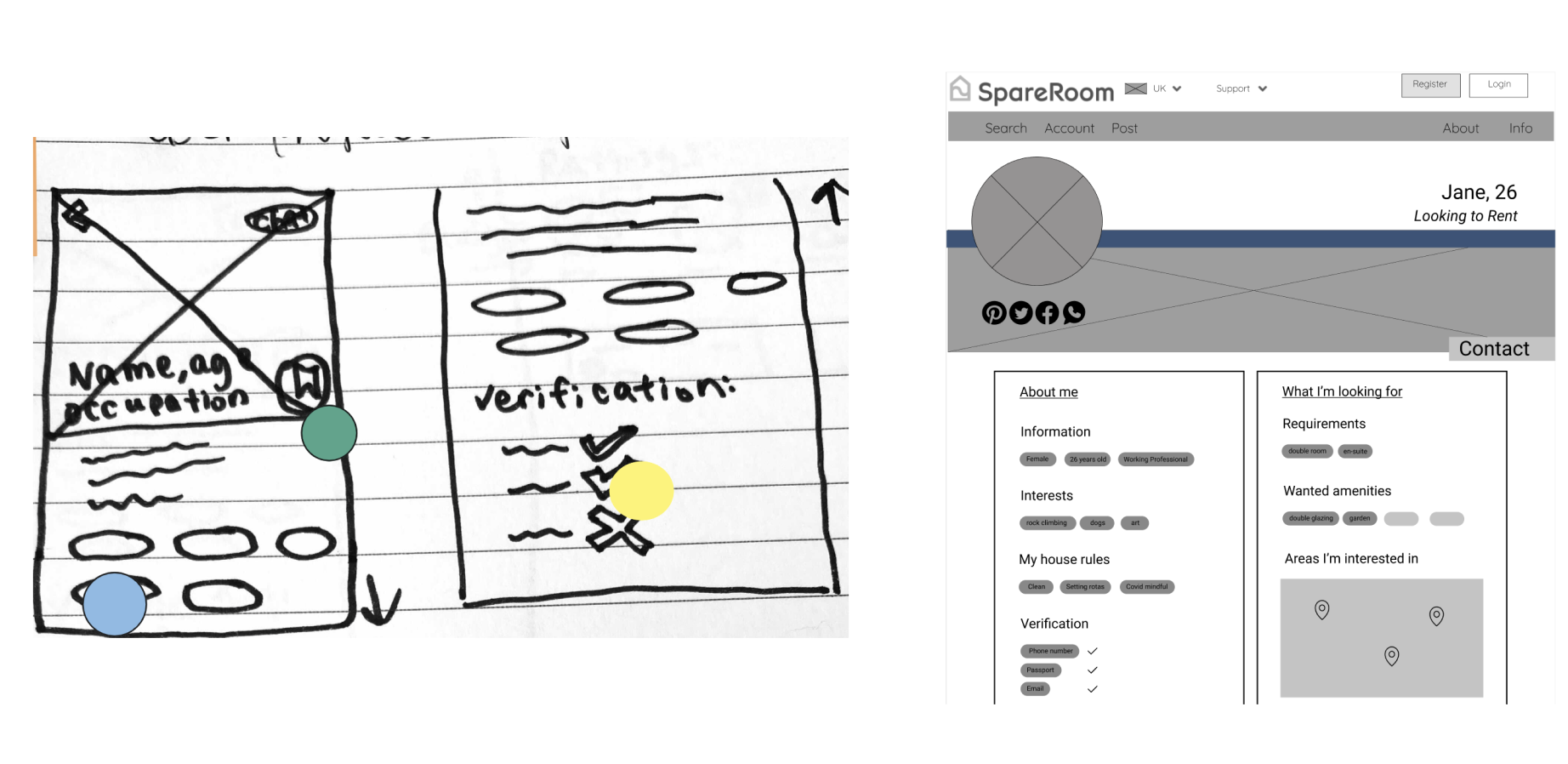 Wireframing
Upon agreeing on the 'sweet spot' we started to move up from quick feature sketches to wireframes. To combat the trustworthiness issue, we implemented verifications. Using dot voting after speaking to users, we were able to agree on which features made most sense.
We also wanted to improve the quality of information on the profile page, making it clearer and more engaging for users. So we implemented 'pills'.
After 4 tests on these ideas, we were told by 3 users that a 'what I'm looking for' or requirements would be beneficial too; moving into digital wireframes, we adopted this.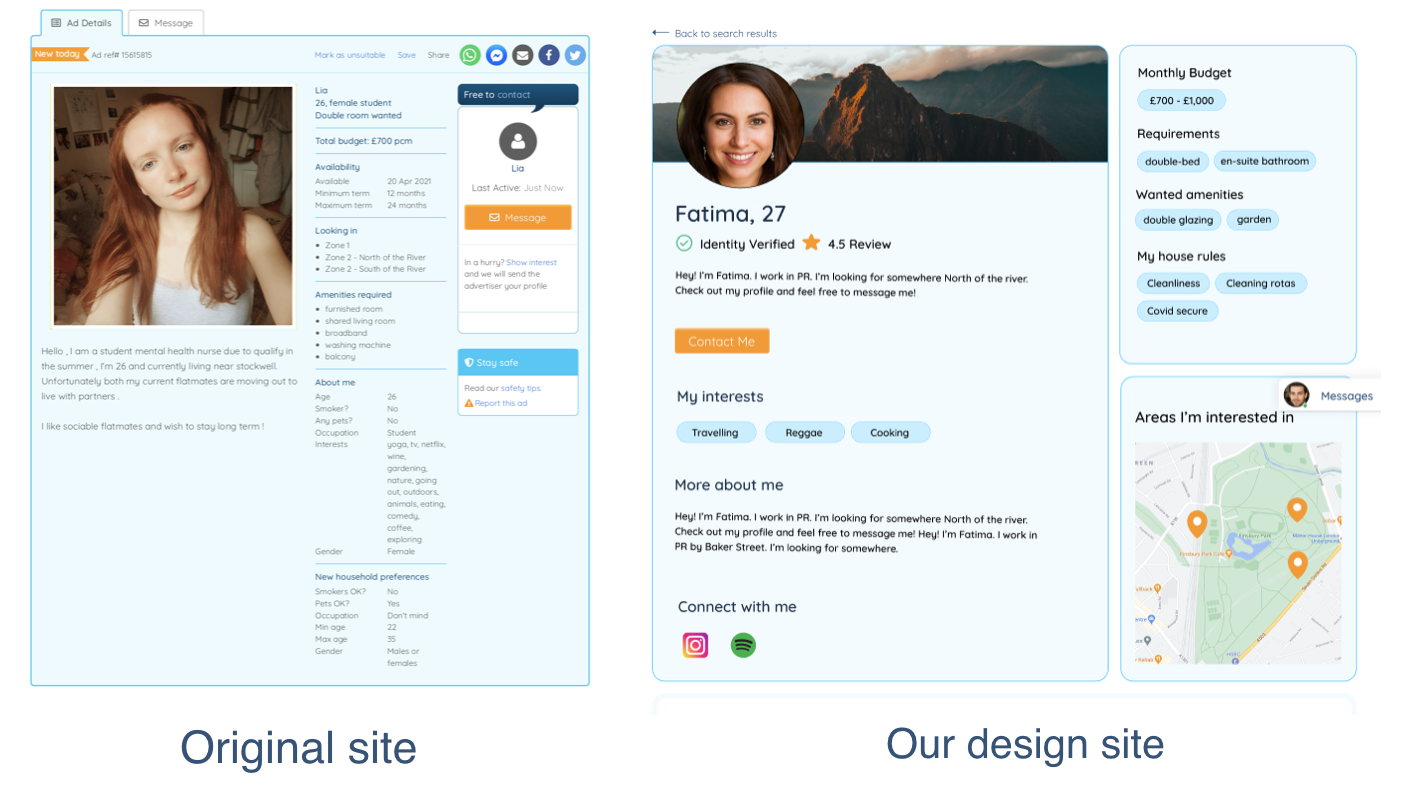 High fidelity
After testing this with 6 more users, we received generally positive feedback, but were told that it would be nice to have a short intro about a person in their profile. Users also wanted to see a monthly budget.
We were also informed of people's weariness of including too many social media links. This linked back into the trustworthiness issue. During one test, a user suggested that we could have add a link to a Spotify playlist on the profile page to increase the 'fun' of engaging with other users.
Taking this feedback into account, we further iterated to reach mid-high fidelity. To the left is a direct comparison of what the Spare Room site looks like currently versus our design.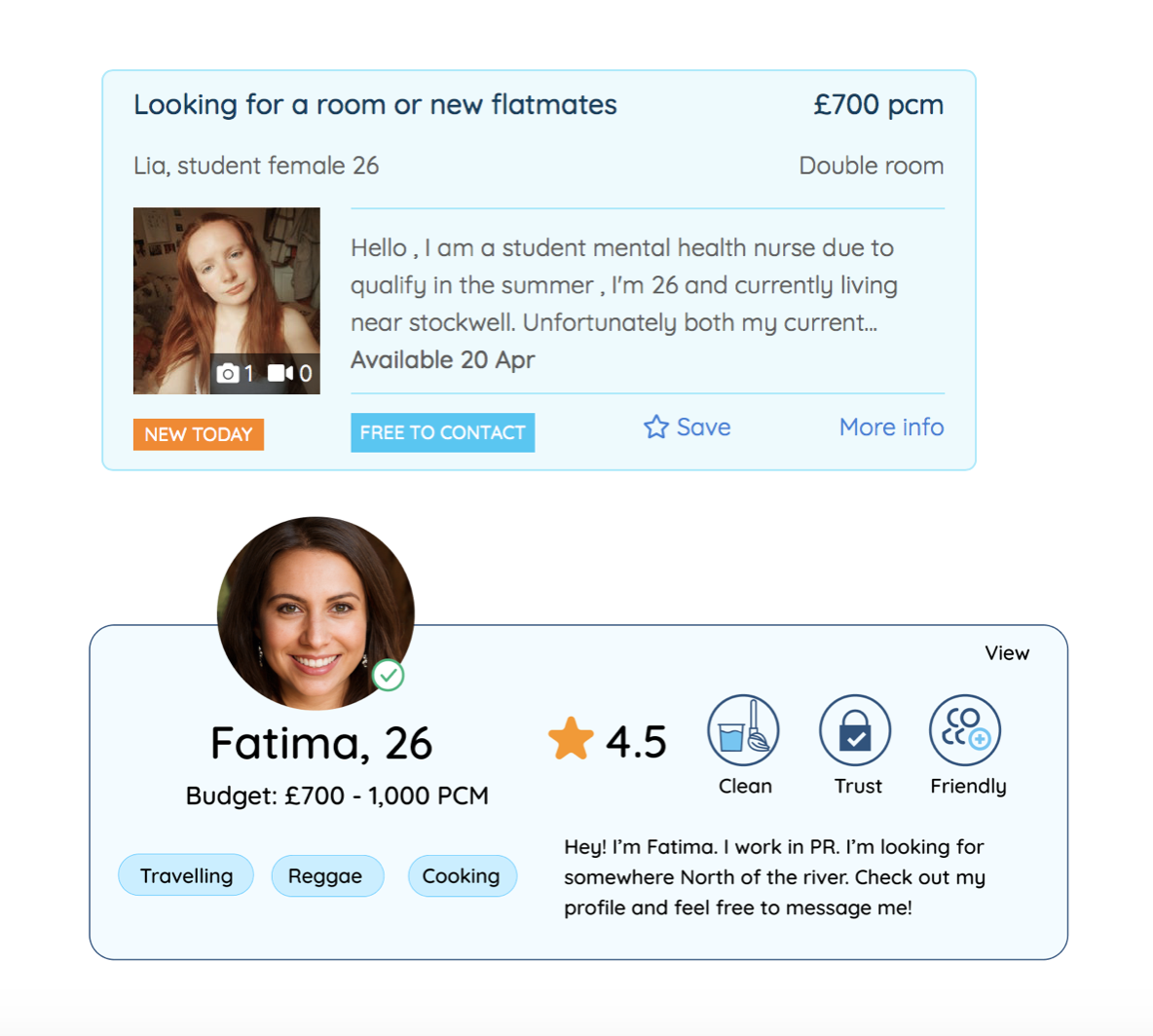 High fidelity continued...
We tested our high fidelity designs on 12 different people. The reduced text heaviness was reported as making the profile more enjoyable to read, whilst adding clear reviews and badges did indeed make the profiles more trustworthy.
With the profile being well received, we then focused on what users would see when they actually searched the website. During our previous tests, users had suggested we make the search results as similar to the profile page itself as possible to keep things simple and intuitive. We therefore changed the accessibility of the text when searching for profiles, as well as including the 'pills' to showcase interests so users don't have to trawl through significant amounts of information. Users stated that it was very important to have the verifications and ratings at this stage too — one user observed:
"when I search I need to be able to see someone is trustworthy before I go on their full profile page, otherwise I'll just skip past it."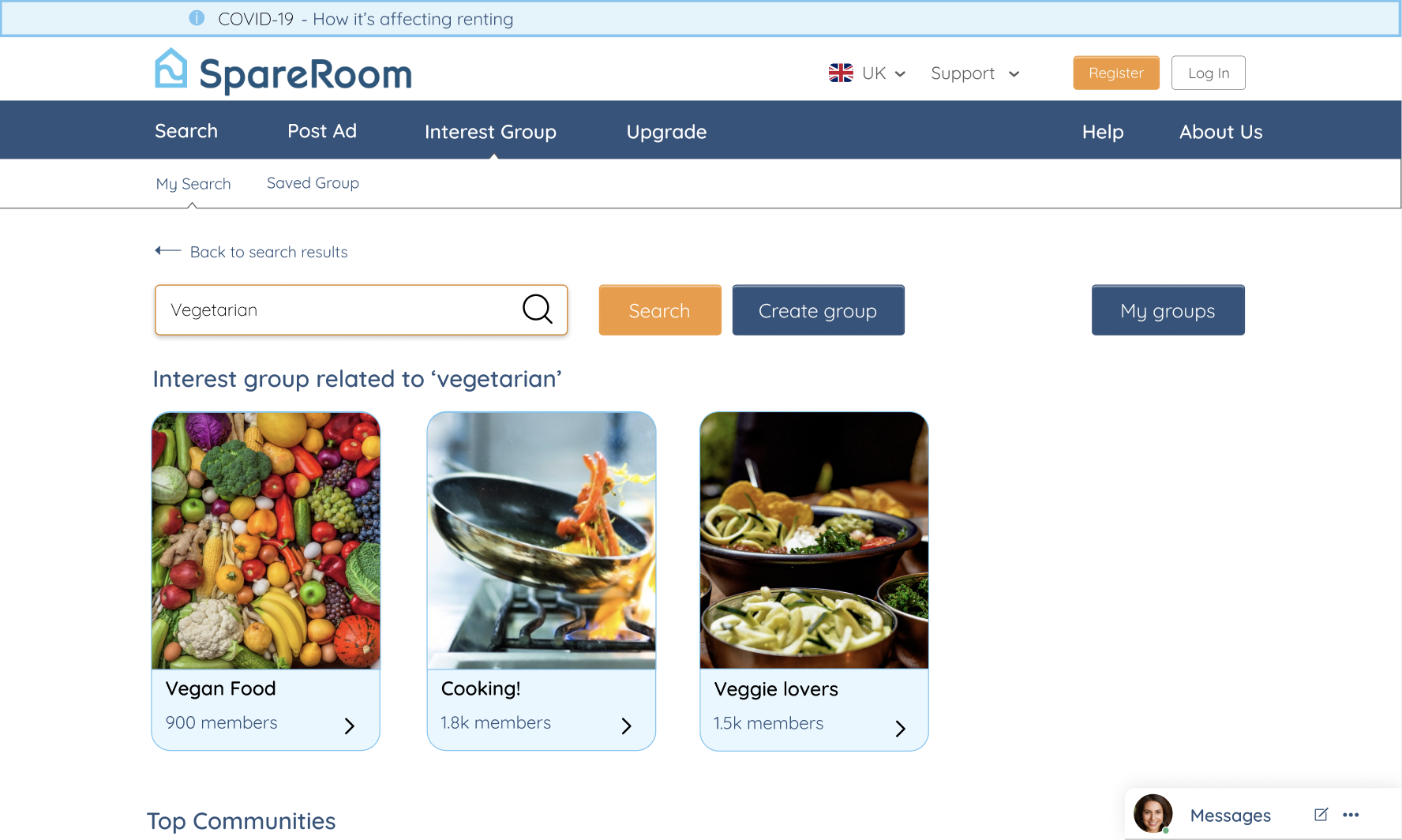 Interest Groups
Another idea that we had seen in our competitive research, which was then suggested by users during our second round of testing, was the idea of creating 'interest groups'.
Users stated that it would be an ideal way to get in touch with like minded individuals on the site. I asked one user what they would expect to see in an interest group and they commented
"LBTQ friendly would be one definite, perhaps also eating habits"
We felt that the interest group was a clear example of making the site more engaging and — if the designs were one day implemented — would love to test if it increased communication amongst users.
What did I learn?
My main takeaway from this project was the importance of prioritising features. If you can work on a project for months on end then the scope for implementing new features drastically increases. However for a 2-week sprint such as this, it's imperative that designers focus on what features are going to solve the most problems. Our Venn Diagram was a success and is something that I will certainly be using in future.