#ForYou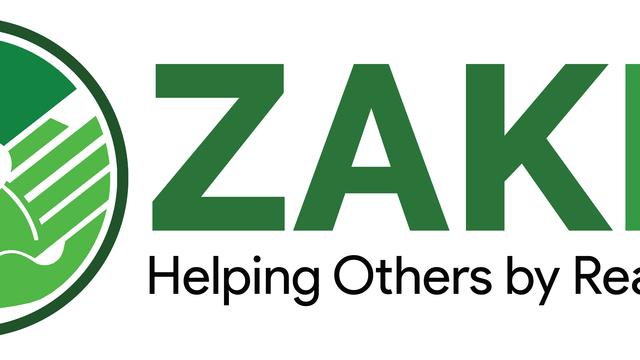 Who are they?
ZAKKI #ForYou was a responsive online crowd-sharing platform that focused on helping communities in need in Indonesia.
Why was I interested and what was my role?
I had worked in charities before (albeit in an entirely unrelated capacity), and had thoroughly enjoyed it. This particular project presented a challenge for me in that it was designing for a new culture and concept, featuring a remote team spread across the globe, creating something from scratch. It was agreed that I would take part in the research and planning of this project, but I would take no further part once it went into the actual design as I was looking for a permanent role at the time.
The project:
As a charity - and before my involvement - ZAKKI had identified that access to some essential items was a problem in certain parts of Indonesia. To kick off the process we set about deciding what our approach to solving this problem might look like; we did some simple brainstorming and concluded that a crowd-sharing platform could work well.
Collectively we looked at various other crowd-sharing platforms to get a sense of what already existed online, and how they approached community interaction and distribution of items. In addition, we created a survey that sought to gain data on what items in particular were most in demand, and who our specific demographic would be.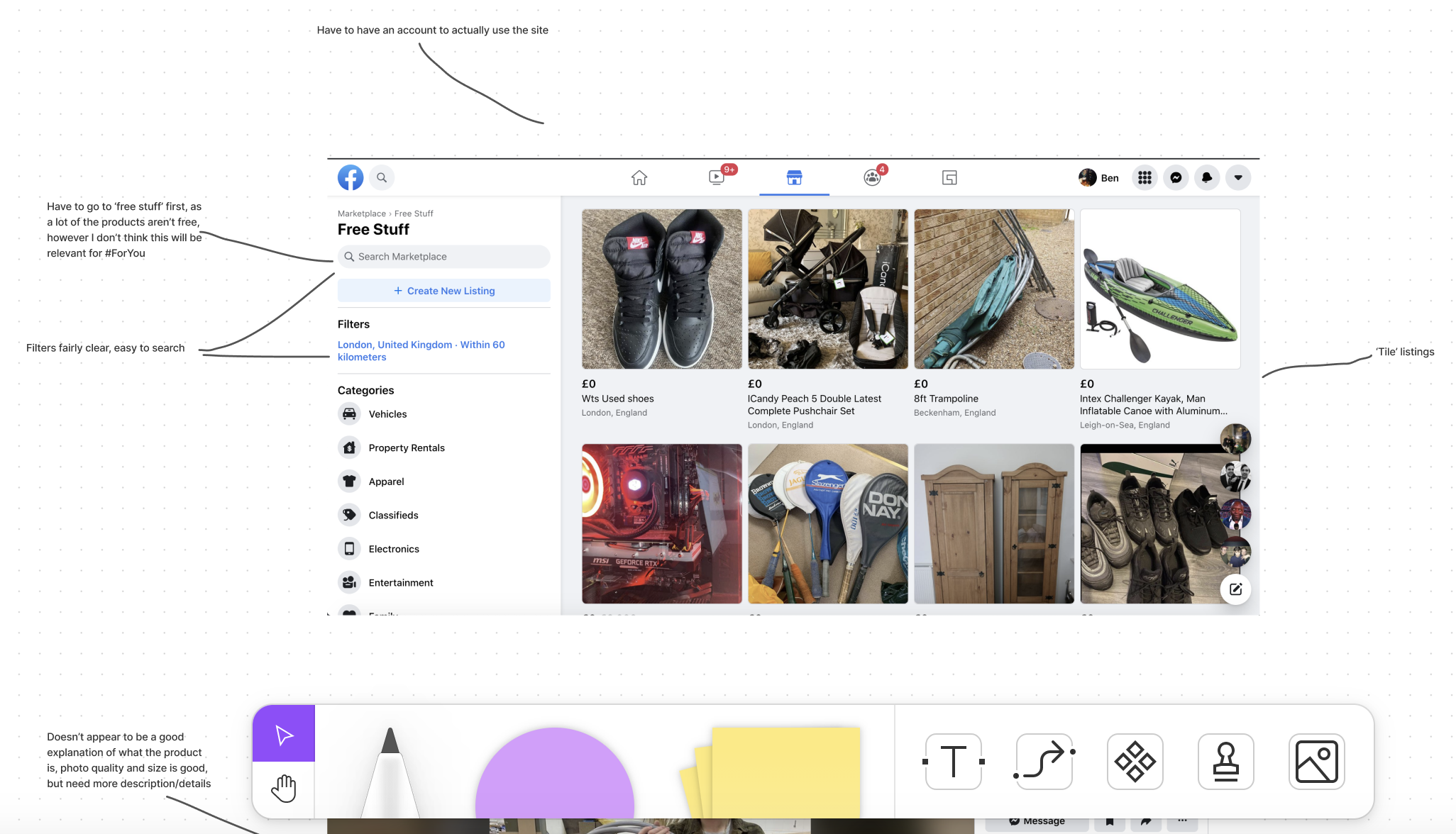 Facebook's 'free stuff' page is featured to the left here - my decision to look at Facebook was related to their position primarily as a communication tool but secondarily as a buying/selling tool.
This was one of 7 'crowd-sharing' websites that I analysed in total.
Once we had finalised our analysis of competitors we ran a group brainstorm in Miro of content that we believed should feature on our platform. This was the first stage at which the developers were involved (something I personally feel is an optimal approach for any start-up), in order to ascertain what technical limitations could arise with our feature ideas. We voted on which features would be certainties and which should be resigned to 'maybes'.

User Flow
With inspiration taken from other sites and a rough idea of what features we wanted to have, we knew that we needed to map out how users would actually navigate the platform. This was the essential next step before I could leave the rest of the team to 'design'.
There were two key journeys by our estimations - a flow for users who were looking to list an item on the platform, and one for users looking to obtain an item.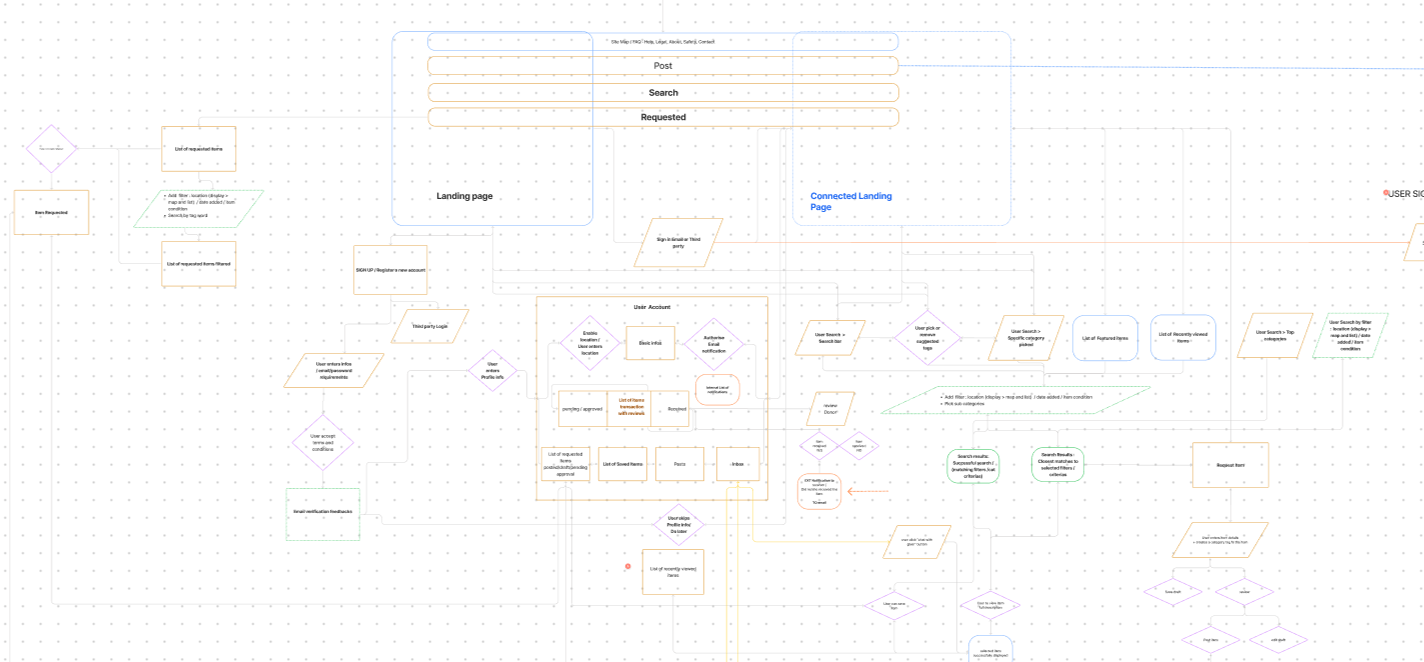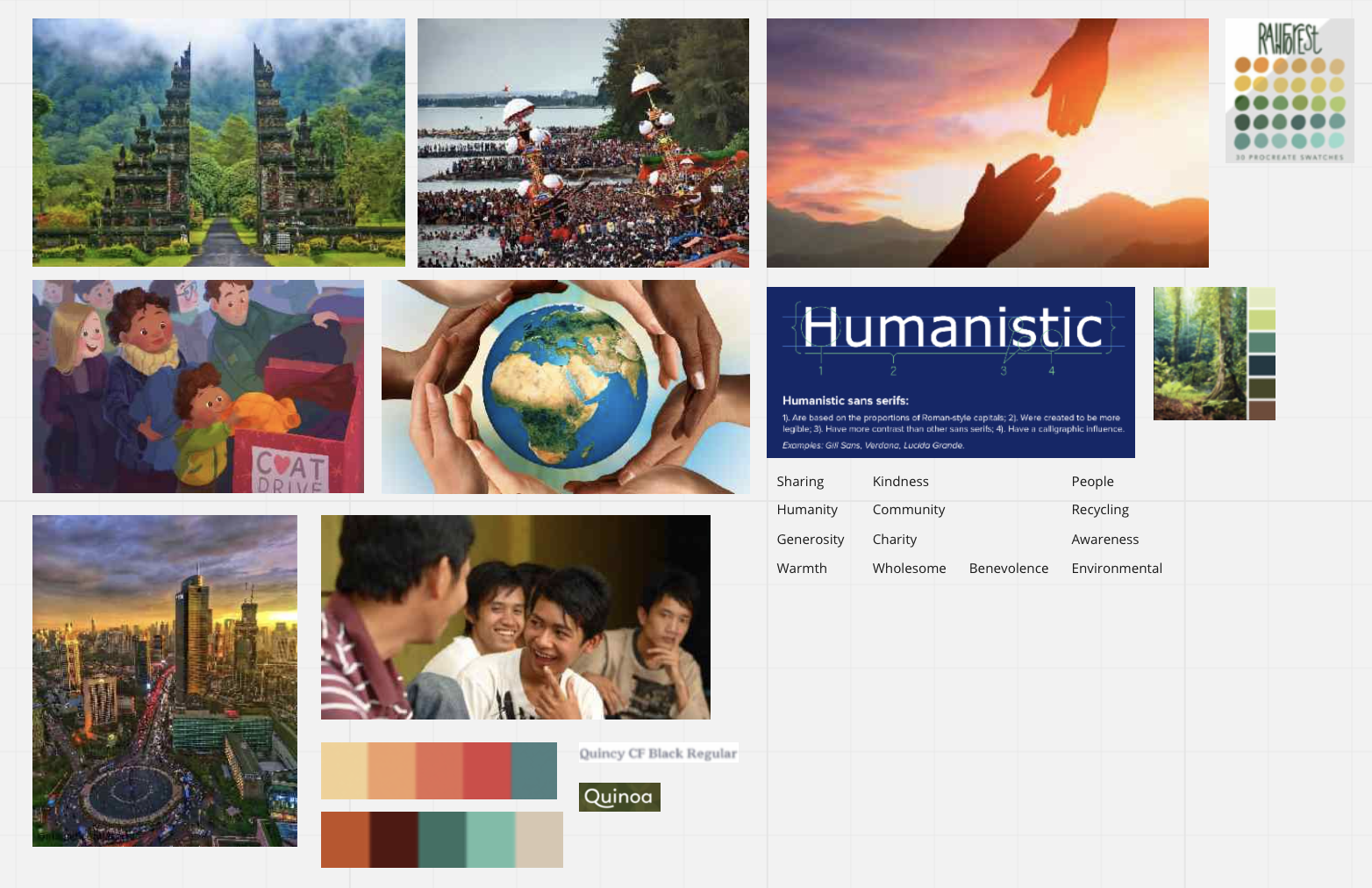 Branding
With our direction largely agreed upon it was time for the team to start initial wireframing.
I am a big believer that each project requires different amounts of wireframing (from a fidelity perspective). For a well established product the amount of low-fidelity wireframing may be limited but for something like this it's probably an essential part of the process.
If I personally had been involved in designing I would have been inclined to sketch some ideas on paper, but we all agreed that as we were working in different time zones at different speeds, with the team constantly changing, it might be beneficial to have a very general conversation about the brand first.
I must also admit that in this case it was helpful to develop a 'tone' to the planning of the site. I believe it was too early to be worrying about the UI, but I feel there is nothing wrong with starting to create a mental image of how the platform is going to look. In fact, it probably is pro-active, as long as you are willing to keep an open mind about it changing as you move along.
You can see my moodboard to the right.
The end of the road...
Unfortunately I bid farewell to the team at this stage - my role at Entain was just starting and for both the charity and my own sake I did not want to commit to doing further work alongside a new full-time job. I must give a lot of credit to the senior designer and the product manager in this process who were instrumental in moving things along so promptly; at a time where I was pretty green, I was like a sponge in my communication with them.